Sometimes you need to have the Sandbox/Test shop where to try out things before putting them into your real shop.
Or you just have two shops.
With each Paid Plan on the Matrixify, you get the Matrixify app on one additional shop for free, so that you don't have to pay twice.
Note that Shopify Development stores are not able to approve app subscriptions, and trying to do so would return the error "The shop cannot accept the provided charge".
In such a situation, you can use this additional store offer to activate the paid plan in your live Shopify store and then link the development store as free additional store.
Activate your additional free store
Important:
First, you need to install the Matrixify on that other shop as well.
A store that you wish to add, must have a demo plan.
The linking needs to be done from the store that has paid subscription plan
Go to Matrixify App -> Settings in the store that has a paid subscription plan.
In the "Shop Sponsoring" section fill the "Shopify Domain" box by typing there your other shops .myshopify.com domain.
Click on the "Save" button to save the changes.
Remove additional free store
Important:
You can remove the free additional store from both paid store and the free store.
Free additional stores can be removed after 30 days have passed since they were linked.
Go into Matrixify app -> Settings in one of the linked stores.
In the section "Shop Sponsoring" you can see what myshopify.com domain is linked to the store.
If you see the date and time stamp and the "Detach" button is disabled, then 30 days have not yet passed.
Then please wait till the set date to detach your stores.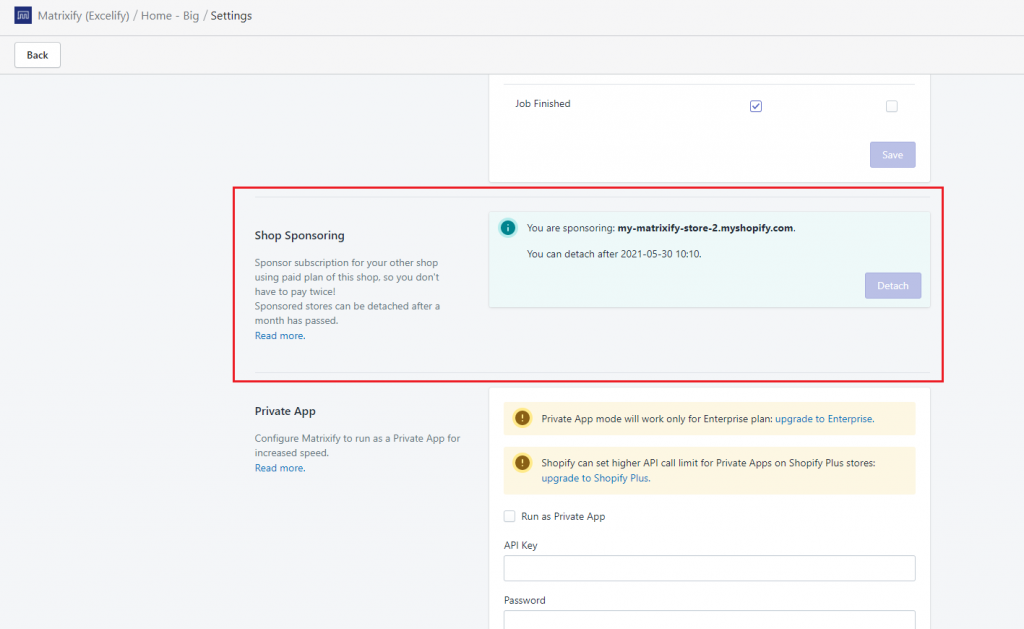 If there is no date and time stamp and the "Detach" button is enabled, then you can click this button to detach your stores.