With a help of modern translation tools such as Google Translate, you can easily translate Matrixify website tutorials or documentation to your native or preferred language.
Translate the Matrixify website to your preferred language
Thanks to the advanced level of Google Translate, we can use it to translate any website into a language that is easier for us to read.
Here you can find a few quick links to Google Translated Matrixify pages:
You can also translate the website in any other language by opening the following link – https://translate.google.com/translate?u=https://matrixify.app.
This will open the Google Translate page in any browser. At the top, you can select any language you wish to translate the website.
Translate specific content pages when using Google Chrome
The simplest way to translate a specific website page on the fly would be using Google Chrome which has built-in Google Translate functionality.
Open any page on the website that you need to translate, right-click anywhere on the page and you should have the option "Translate to English" (or another language that you have set up as the default browser language).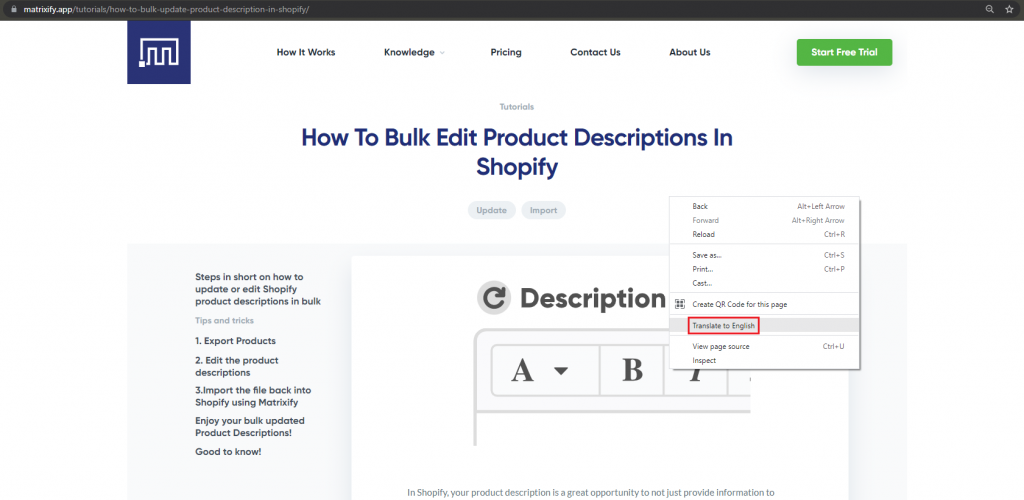 Then at the top, there should be a popup window where you can click on the 3 vertical dots and select "Choose another language".

Select the language that you need and whoala! The tutorial or documentation that you might have had trouble understanding is now in the language that you need!