Using the Matrixify app, with just a few simple steps you can update your Product URLs when you bulk update Product Handles.
Shopify does not allow updating the full URL but you can change the last part of the Product URL which is the Product Handle.
In this tutorial lets look into how to bulk export and import your Product Handles with the Matrixify app.
Step 1: Export Existing Products
In the Matrixify app create new export and select to export Products with only ID and Handle under Basic Columns.
You can also select to export other columns if you need them to construct your new product Handles and remove them from the file later before the import.
Once you have selected data you need – click the "Export" button to start the export and download file once finished.
Step 2: Prepare The Import File
This is how the exported file would look with only ID and Handle selected in the export.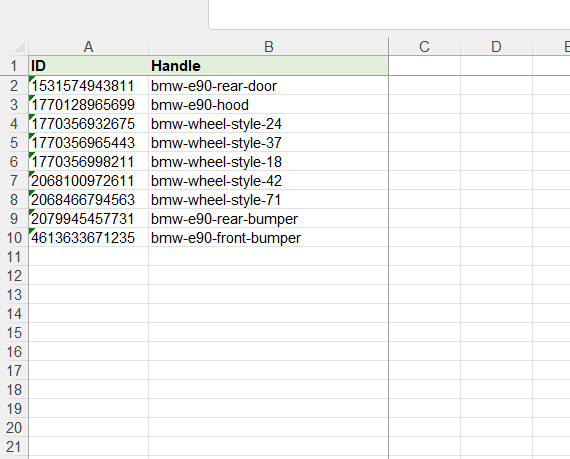 You can now edit the exported file and set new Handles for your Products in your file.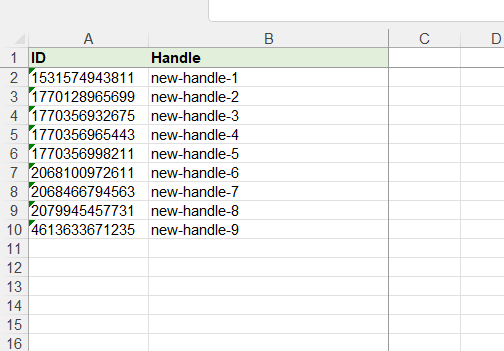 Step 3: Import Product Handles Bulk Update File
Once finished editing, go back into the app and upload your file in the import section.
After import is complete, go to check your new product handles in Shopify Admin.
It's located in the Product page, block "Search engine listing preview", when you click the link "Edit website SEO".
Additional Tips
When updating Handle the app by default will also create a Redirect from old Handle to the new one. You can turn this off before starting the import in the import Options.
You can update handles of Smart Collections and Custom Collections the same way as Product Handles.
You can update e-mails of Customers the same way.
You can update any other field or combination of fields by the same principle.
If you need to update Variant fields, look into this tutorial: Shopify Product Price Bulk Update.
It will not create additional Products (or any other items), because it will identify by ID field that you need to update existing Product (or other item) with this import.
Where To Go From Here?