You can bulk update Google Shopping fields in Shopify by using the Matrixify app import and export functionality.
As you might have noticed – native import in Shopify Admin does have Google Shopping fields in it but does not actually update or export your Google Shopping sales channel data. Shopify Admin exports and imports only the legacy Google Shopping fields which are updating the Metafields in "google" namespace, however the new Google Shopping sales channel stores their values in Metafields "mm-google-shopping" namespace.
Here we can follow a few simple steps on how to update the correct Google Shopping data.
Steps in short to update Google Shopping fields in Shopify
1. Set Google Shopping values for one product in Admin
Google Shopping sales channel stores their data in Shopify Metafields. For Matrixify to be able to export this data, the Metafields need to be set for at least one of the Products that will be exported.
Open any product in your Shopify admin and at the top-right corner press "More Actions" -> "Google fields".
If you do not see the "Google fields" under More actions, then you need to add the "Google" sales channel in your Shopify Admin.
In Shopify, Metafield exists for a product if it has a value so to ensure that all Google Shopping Metafield columns are exported, set values in all Google Shopping fields for this one product.
2. Create new export for Products with Metafields
Go into the Matrixify app in your store and create a new export.

In the new export page you need to select the export format.
As the goal is to update data in Shopify select to export to "Matrixify: Excel" format.
In the Sheets section select to export Products.
Now let's move into the Products sheet!
As you do not need to update other Basic Product details select to export only the fields you need to identify the product – Basic Columns group – ID and Handle columns.
Select to export also the Metafields group to include Product level Metafields.
You can also add other columns to the export data if you need them – to reference the Product fields for your Google Shopping metafield columns.
3. Export only Google Shopping Metafields
Once you have selected fields you wish to export you can tell the app to only export Google Shopping Metafields, if you have also other Metafields in your store.
Open the "Customize Columns" section and click on the pencil button next to the Metafields column. This section will allow to include only specific Metafield columns that you need.
Select the criteria "Namespace" with "equals to any of" condition. Fill the value mm-google-shopping and press the "Add" button to add the Metafield column selector. This will export only the Metafield columns for your Google Shopping sales channel.
These are the minimal columns that you need exported to bulk update Google Shopping fields in Shopify. But of course, you can add additional columns in that same export if you need them for reference.
Press the "Export" button to start the export and download the file when finished.
4. Update Metafield columns in the exported file
Once you have the exported file, open it and find Metafield columns for Google Shopping.
Each Google Shopping Metafield is also explained in our Products export sheet documentation in a case you need to identify what a specific column means and what values can be entered in what columns.

Now you can bulk set values in these fields for other Products.
Make sure that capitalization for values is also set correctly – to match the Google Shopping requirements for allowed values in each field.
App will save in these Metafields with whatever values you enter but Google Shopping might not accept them if capitalization is not correct.

5. Import to bulk update Google Shopping fields in Shopify
When you have finished editing the file save and head back into the Matrixify app.
Upload your file in the Import section, wait for the app to analyze it, and press the "Import" button to start the import.

You can read our "How it works" page for more details about how the import process works.
Once the import is finished, the data is updated in Shopify. Enjoy your bulk updated Google Shopping fields!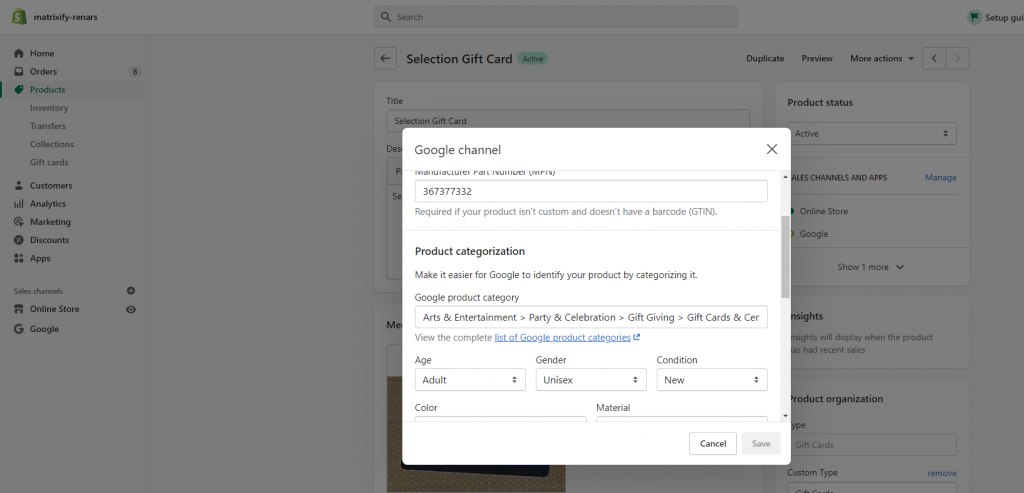 Good to know!