You can change the way Products, Pages, Collections, or Blog Posts appear in search engines by updating the Shopify SEO Title and Description. In Shopify Admin this can be a slow manual process, updating this data separately for each Product one by one. The SEO data is stored in SEO Metafields and luckily Matrixify can save you some time. Here is our guide on how to effortlessly update your Shopify store SEO Title and Description in bulk with Matrixify! This tutorial will be for Products, however, it works exactly the same for Collections, Pages, and Blog Posts.
Steps in short to update Shopify SEO Title and Description
Note – Shopify does not save SEO Title and SEO Description separately if it matches the regular Title or Description.

Because of that, in the Matrixify export, the SEO Title and SEO Description Metafields will be empty if they have not been set to new unique values that do not match regular Tilte and Description.
The same applies to imports – if importing SEO Title and SEO Description that matches regular Title and Description then Shopify will not save it as separate Metafield. So there is no reason to import such SEO Title or SEO Description.
It does not mean that Shopify does not have SEO details for the item. Shopify just uses regular Title and Description for the same SEO page data.
1. Export Products
Go into the Matrixify app and create a new export. Once on the Export page, click on the "Select Sheets" button and select to Export "Products".
You do not have to export every column to update Shopify SEO Title and Description, you only need to export "Basic Columns" and "Metafields" groups. Your New Export set-up should look like this: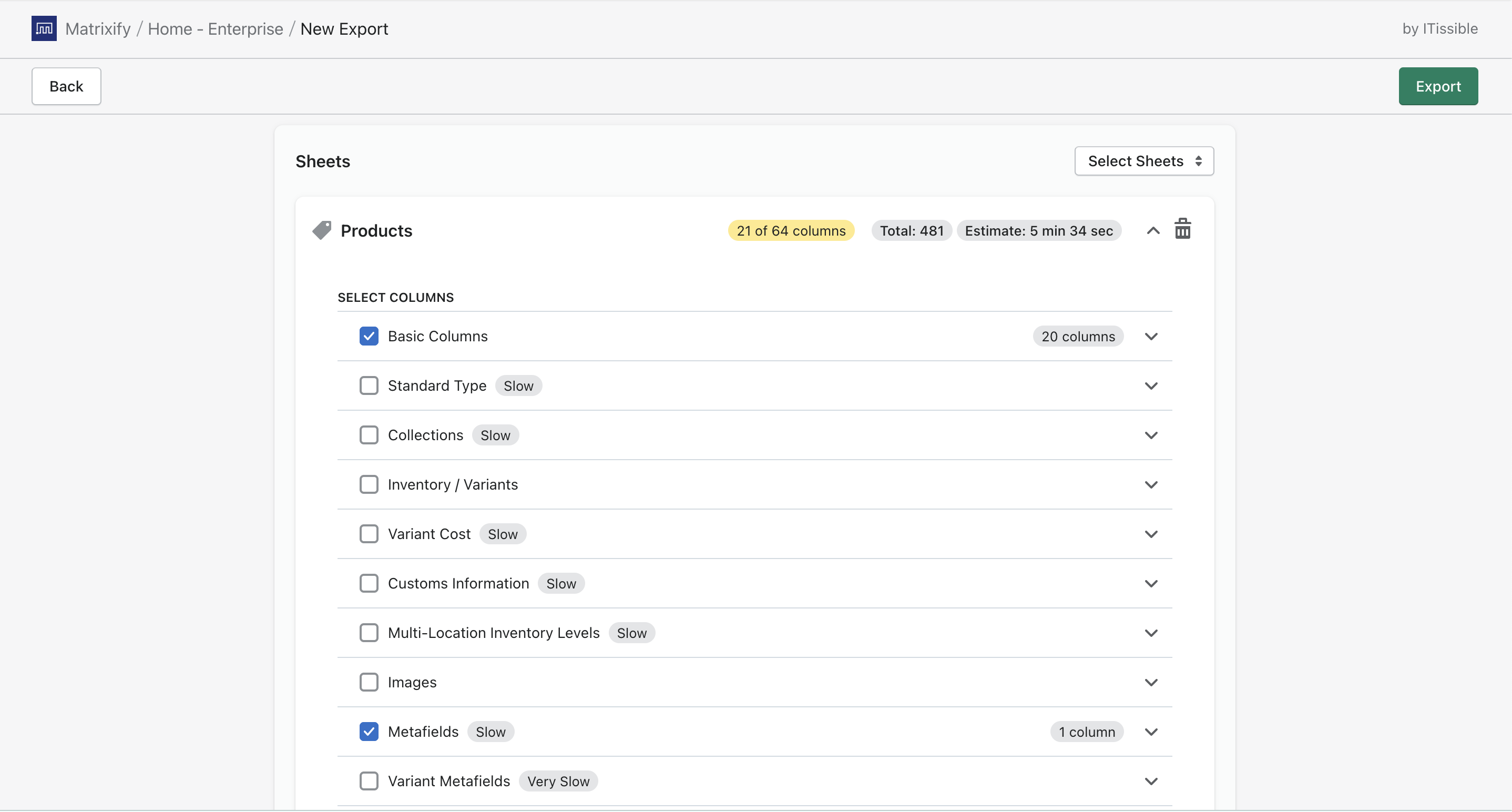 If you do not need to update SEO Metafields for all Products, you can apply filters to the Export and Export only the Products that you need.
You can set filters by pressing the "Filter" button when creating your export. Read more about Filters in Matrixify "How it works" page.
If you have many Metafields, then in the "Customise Columns" tab – you can edit the "Metafields" column placeholder to include only the SEO Metafield columns. In that case, choose to "Include only Metafields where Key equals to any of: title_tag, description_tag".

2. Download the Exported file and remove the unnecessary columns
You will be able to download the Exported file once the Export has finished. Open the file and there you will find all of your Basic Columns and Metafields. As we are only Updating the Metafields "Metafield: title_tag" and "Metafield: description_tag" we only need these Metafield columns, therefore you can go ahead and remove any other Metafield columns from the file.
If the values for both SEO Metafield columns have exported empty this does not mean that your Product does not have an SEO title or SEO description. This means that your SEO title and SEO description are exactly the same as your Product title and Product description. You are free to type a new value in the empty space and when you Import the file your SEO Metafields will be updated with the new value.
If, however, you will set them to be exactly as your Title and Description, then don't be too shocked – Shopify will show them as empty, and will assume that those will always match the Title and Description of the Product.
We will also need something to identify which Products these Metafields are for, this means that we will need the "ID" and "Handle" columns too. You can go ahead and delete any other Basic columns in the file. At this point your file should look like this:
Of course, if you want to update any other columns with the same import, then you can keep those columns that you want to update, and import them with their new values, too.
You can also have additional columns in that same sheet for your convenience – and those will be ignored if they are not part of the Matrixify template.
3. Update the Metafield columns
Now you can go ahead and update the values in the Metafield columns.
You can find SEO Title in the column "Metafield: title_tag [string]", and SEO Description in the "Metafield: description_tag [string]" column.

4. Save your file and Import back into Shopify using Matrixify
All that is left to do is to save your file and Import it back into Shopify using Matrixify!
Go back into the Matrixify app and in the Home page Import section, you can upload the file.
First, the file will be analyzed by the app. Once the file is analyzed you need to check that the app has recognized the file correctly and that the item count in the file looks correct.
You do not need to adjust any Import Options, default ones will work fine.
Then press the "Import" button in the top right-hand corner and the file will start Importing.
Once the import has started, you can follow its progress in the app.
You can close the app while the import is running as it is happening on our servers.
If you change your mind about something, you can press the "Cancel" button to cancel the import job, and start over. Thus far imported Products will already have the updated SEO Metafields in your Shopify store. Also, when canceling the import job, Matrixify will still generate the Import Results file for you for the items that were imported before canceling.
Enjoy your bulk updated SEO Title and Description!
Once the import is finished, you will see the job status as "Finished" in the Matrixify app.
If you see any Failed items, then after the import has finished, you can download the Import Results file and look to the "Import Comment" column. It will tell why the particular Product failed. Then you can fix that issue and re-import just the Products that failed with the fixed rows again.
To see if your SEO Metafields have updated, go to Shopify Admin -> Products and open a Product for which you just updated the SEO Title and Description. Scroll down to the bottom of the page and there you will find a box titled "Search engine listing preview". Press "Edit website SEO" and you will see your updated SEO details.
Good to know!
If the SEO Title or Description shows as empty, it just means it's exactly the same as the Product Title and Description.
You can use the same procedure to update SEO Metafields for Products, Smart Collections, Custom Collections, Pages, and Blog Posts.
Always check that the "Sheet" (Excel tab) you are importing shows the correct sheet you intended to import. If you update anything else but Products, then sheet names matter when importing from Excel file (or file name, in case you are importing from CSV file).
Read more about updating Metafields in Matrixify "How to bulk manage metafields" tutorial.
We offer a great tutorial on how to hide Shopify Products from Google, sitemap, and other search engine results in bulk.
Here you can find all of our Metafields related tutorials.
More detailed information about Metafield columns can be found in the Metafields documentation.
Check out the Shopify manual about SEO details.
If you have any questions or queries, feel free to contact us!