Shopify bulk delete is tricky! If you a had serious need to delete selected products, and lots of them, you know how tricky it may be.
However, there is a better way to bulk delete Products from Shopify Admin, especially in cases, when you need to delete several products on several pages by criteria which are not available in search.
Steps in short to bulk delete Products in Shopify
1. Export Products from Shopify using Matrixify
First we must Export the Products you would like to delete with the Matrixify app. You can do this by going to the Matrixify app, selecting "New Export" and on the Export page from the "Select Sheets" drop-down select to Export "Products". Your Export set up should look something like this: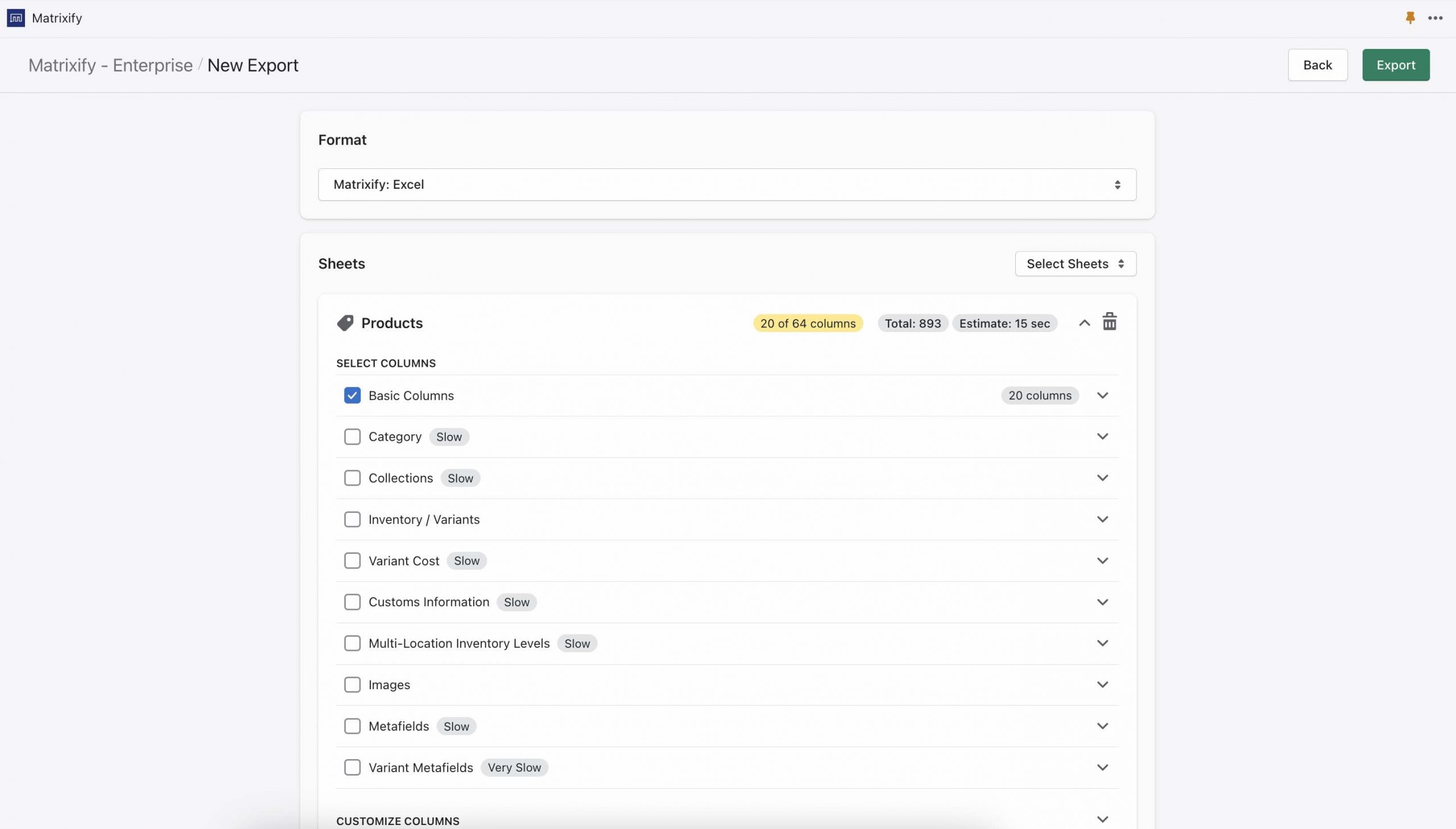 You can also add any filters to your Export to Export only specific Products from your store.
Once you have your Export set up, you can go ahead and press the "Export" button. Once the Export has completed, you can download the file by pressing the "Download Exported File" button.
2. Set "Command" column value to "DELETE"
In the export file, you will notice the column "Command". Change the value of this column to "DELETE" for those products you want to delete in bulk.
Remove all the other rows from the file, which you don't want to delete so that your file remains only with products you really want to delete. You can remove all columns from the file apart from the ones in the screenshot below or you can leave all of the columns. Since you will be deleting the Products anyway, having all columns in your Import fie will make no difference.
3. Import updated file back into Shopify using Matrixify
Once your file is ready and saved, you can Import it back into Matrixify. You must upload the file in the homepage of the Matrixify app to the Import section either by clicking the "Add File" button or dragging and dropping the file there. When you have uploaded the file, Matrixify will analyse the file, displaying the amount of Products in your file as well as displaying a warning referring to the "DELETE" value in your file.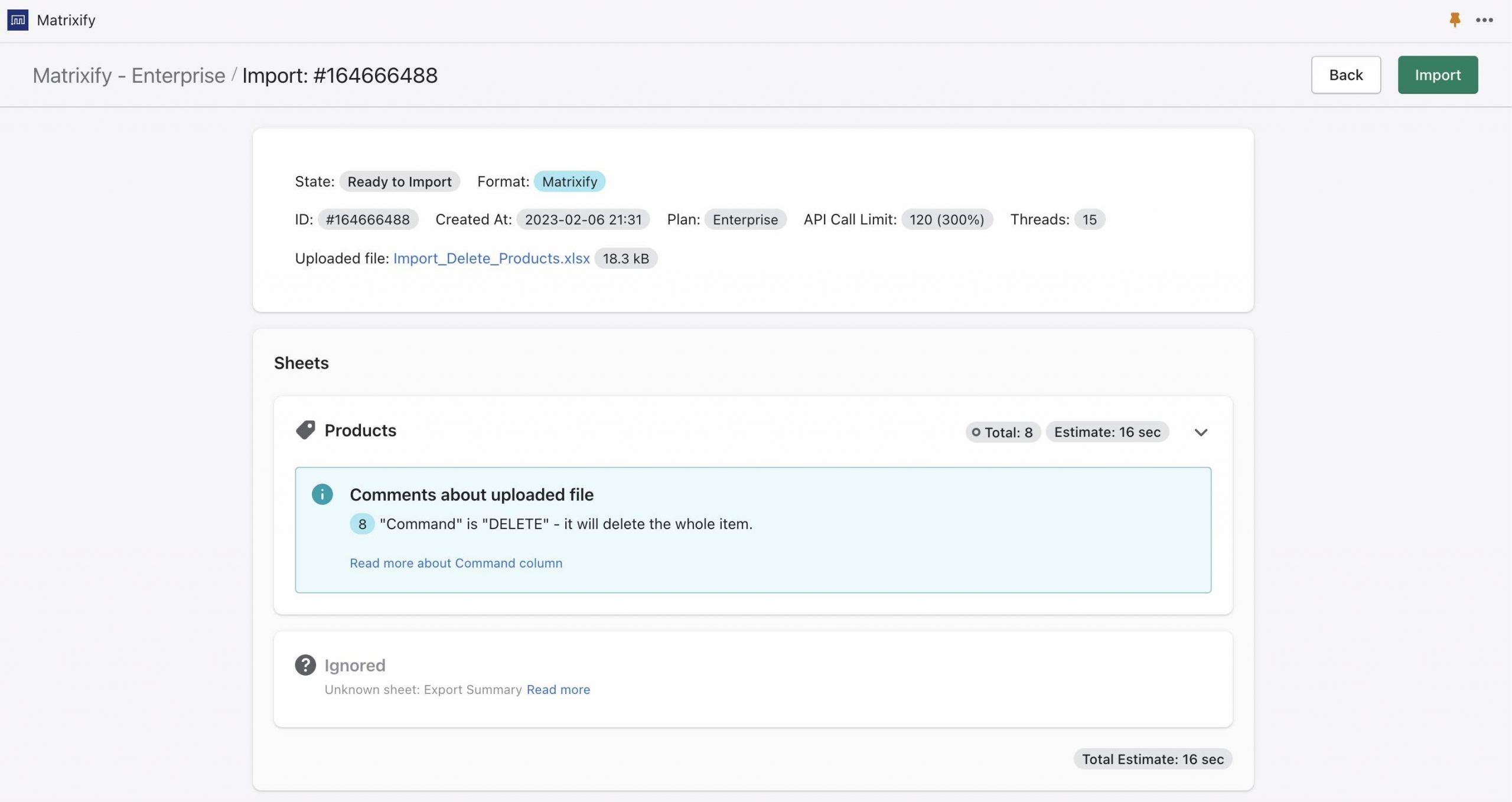 If all looks as it should, you can go ahead and press the "Import" button. If there are any errors after Importing, you can see them by clicking the "Download Import Results" button and checking the "Import Results" and "Import Comments" column of the file.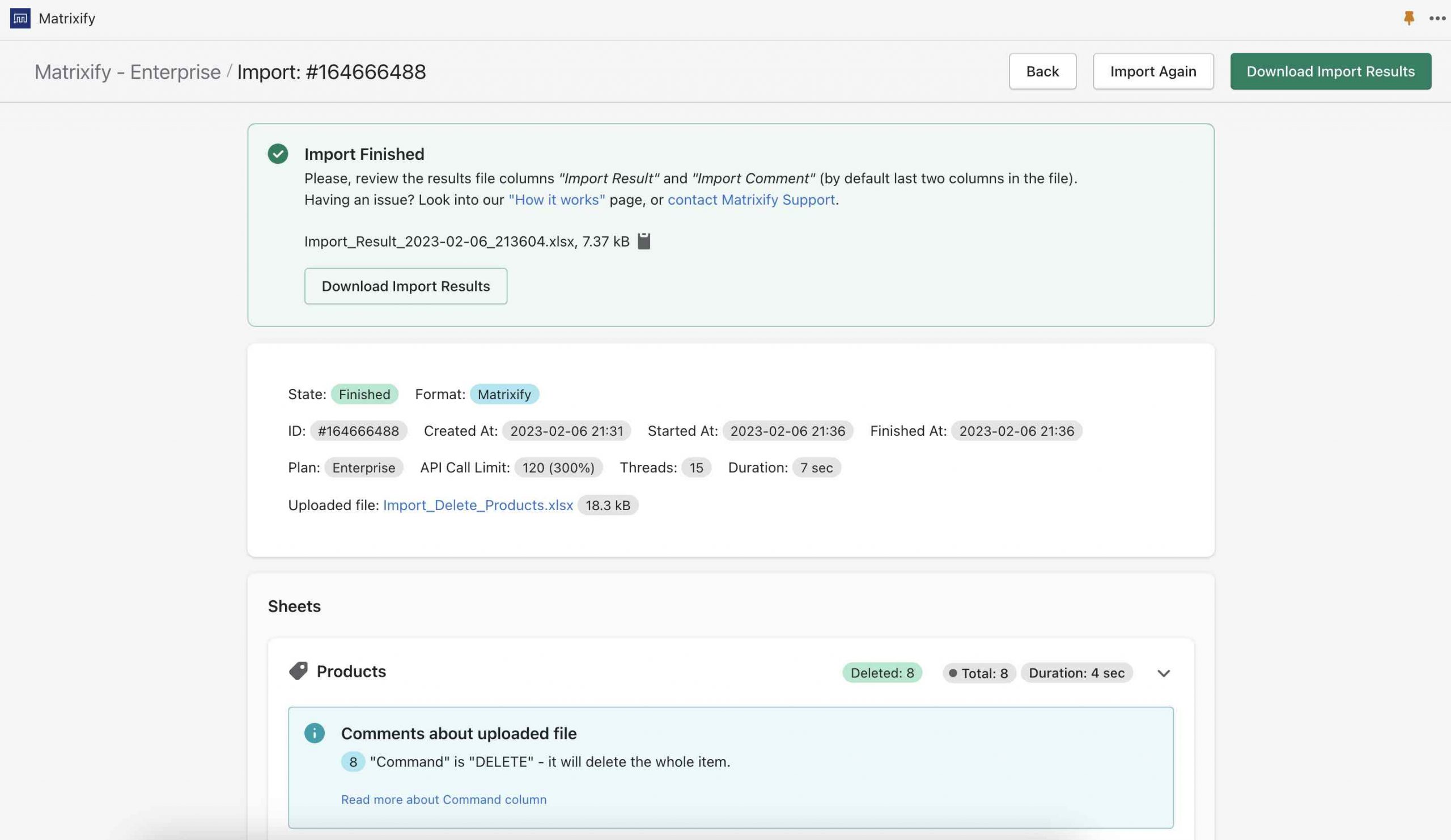 Useful To Know About Shopify Bulk Delete
You can delete Products by ID, by Handle, by Variant SKU, by Handle that is calculated from Title.
This method is very useful if you need to delete a lot of products that are located on the several sheets in Shopify product list. There is no need to browse from page to page.
You can filter products in Excel spreadsheet by any parameter you need and set Command to DELETE.
You can have in the rows with a different command for each product, in the same import file. For example, with the same import, you can delete all products that are out of stock, and update all products inventory quantity, that is still in the stock. Just set the UPDATE or DELETE command for each product respectively.
You can use the same method to delete any items: Collections, Customers, Orders, Discounts, Pages…
Where To Go From Here?
Install the "Bulk Import Export Update with Excel" app from AppStore and do your Shopify Product price update.
Read the Field Descriptions about the Excel file columns that can be exported and imported to Shopify.
Ask our Support to help you prepare the import file, report an issue or ask for a new feature you desperately need.