If you have products without variants which you want to group into fewer products with variants, this is how you do it.
Step 1: Export products to Excel
Export products into Excel spreadsheet and open it to edit.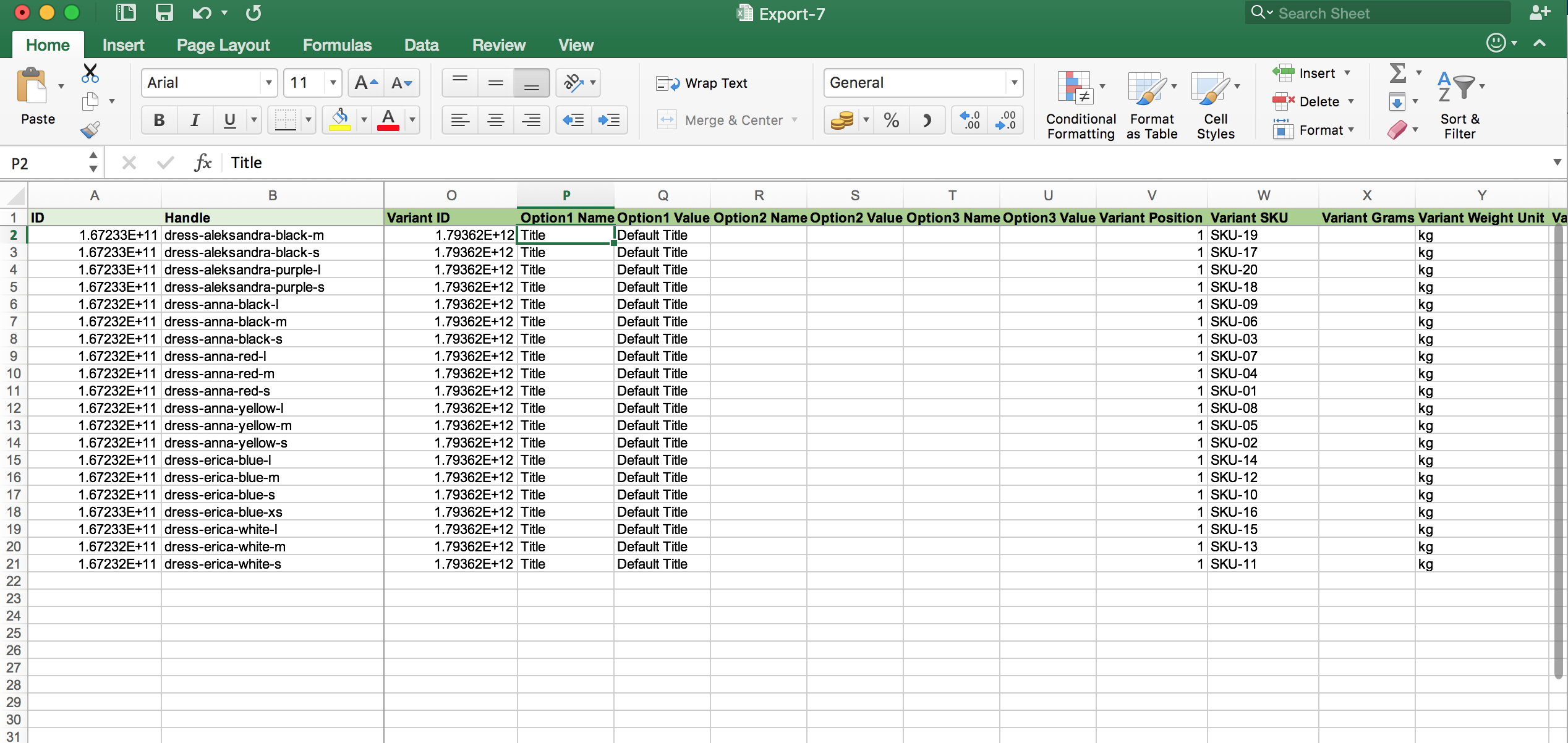 Step 2: Add data to variant columns
I will use following approach: Will add all products as new, but with variants, and then remove old products, which were without variants. I will do it, because this will save me in case something will go wrong (will add tag "new" for all newly imported products and they can be deleted easily, if imported incorrectly) and it will allow me to save images.
If you delete old products first, then Shopify will delete also attached images, and you will not be able to import them. That's why you first need to import new Products, and then you are safe to delete the old Products.
So, to prepare the import Excel file I need to update following columns:
Product ID – remove all data, so that it knows to create new Products with this import.
Handle – set new handle for each product. For example, if the handle was: dress-anna-red-s, now I will have only dress-anna. This handle will be set for each variant of Dress Anna product. You can use formulas or play with Excel "split data" features to split your old handle into portions and then combine back as you need.
Title – set appropriate Title (if there was a colour or size, now you can remove this data from the Title). You can also do that with formulas in Excel.
Tags – add some tag for every row, that is absolutely new and use can use later to distinguish newly added products with variants. I used tag "new". Tags will get imported from all the rows.
Variant ID – remove all data, so that it knows that those are new Variants.
Option1 Name – set name for the first Variant option. In my case this is "Color". Set it only in the first row of the product (no need to copy it for the each Variant.
Option1 Value – set values for the option1. In my case these will be Variant colours: Black, Red, Blue, etc.
Option2 Name – If you have more then 1 option for the Variant, like Colour and Size, set 2nd option Name here. In my case: Size.
Option2 Value – Set sizes, L, M, S, XS.
Variant Image – if your old Products has just one image per Product, copy Image Src column data here – then it will assign that same image to variant image.
Image Src – Keep them as they are, with whatever images you have for your Products.
Step 3: Mark existing Products with tag "old"
Set tag for all existing products, so that you can filter them later. I added tag "old" for all existing products before importing the new ones, as will delete old products after the import: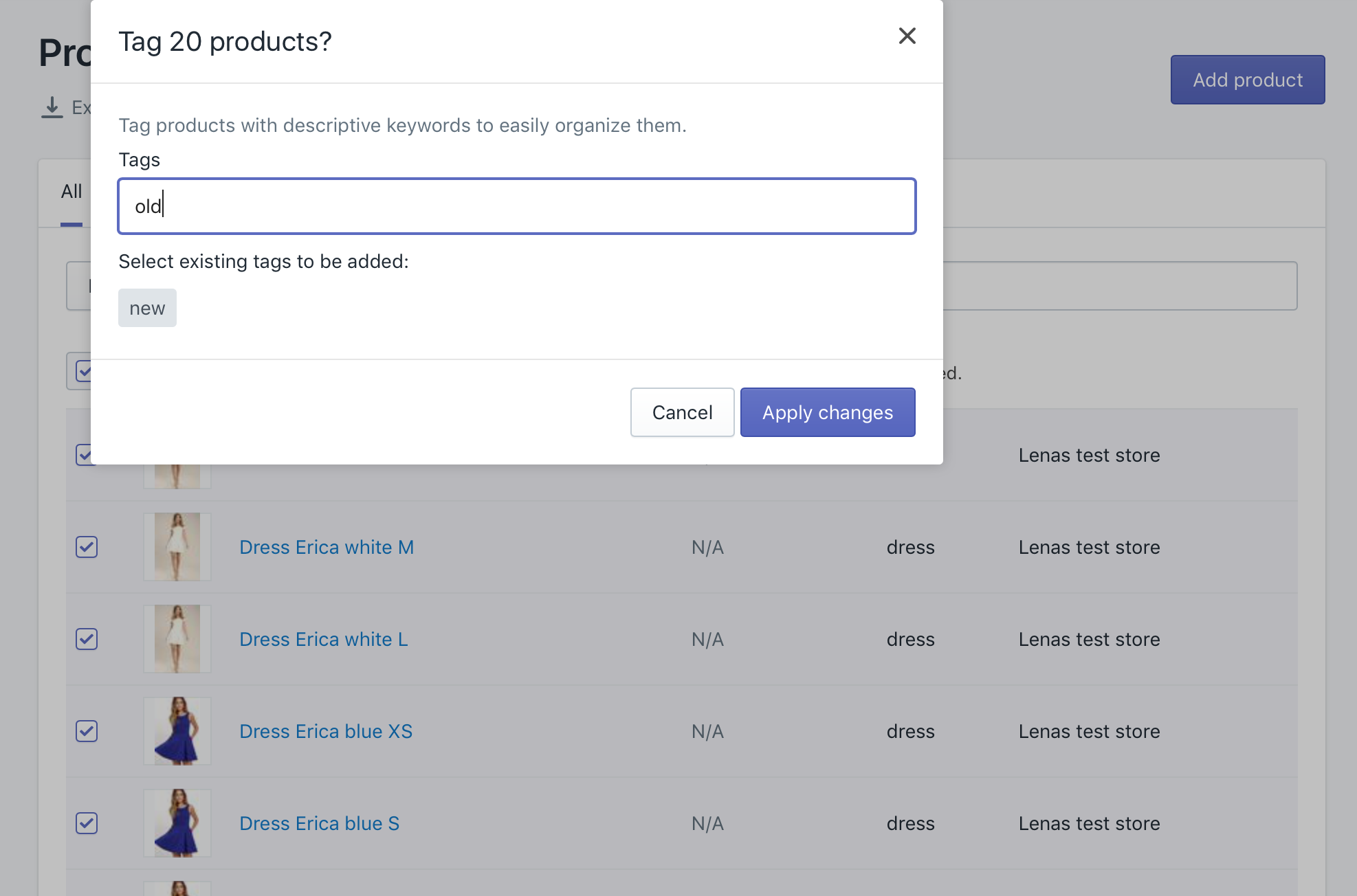 Step 4: Import updated Excel
Import updated Excel file: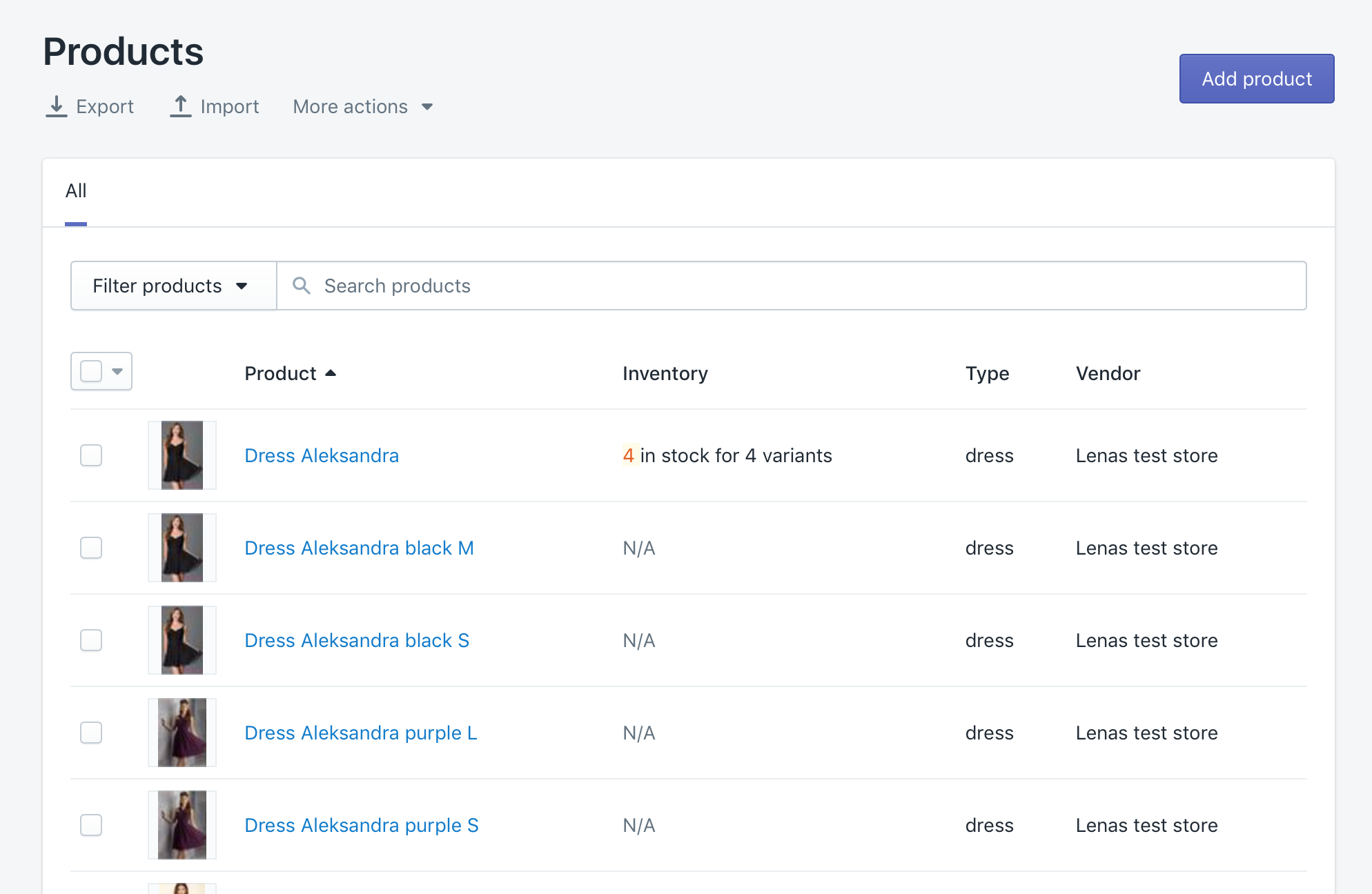 I have old products without variants and new products, but with variants.
Step 5: Delete old products
Now I can delete old products, by filtering them by the tag "old", and doing "bulk delete" in Shopify Admin.
Or follow this tutorial: How to bulk delete Products.
Good To Know
It is important, that you firstly add new Products with variants and only then delete old Products without variants, to keep all you images.
Set some unique tag for new products to distinguish them from the old ones, in case something will go wrong.
Delete old products only after you are sure that all new Products and imported correctly!
After import is complete, you can download the "Import Results" Excel file, where the last 2 columns (Import Result and Import Comment) will show you the result for each row. This is helpful, when something failed in the import – you will see the failure reason there.
Where To Go From Here?
Install the Bulk Import Export Update with Excel app to your Shopify store.
Read the detailed Column Descriptions of all columns (fields) that you can export and import.
Write us a Review and give some stars along with your story, how it helped.