When you need to disable a lot of Shopify Discounts, you can do so in bulk with the Matrixify.
Steps in short
1. Export your Discounts
First, you will need to export your Discounts with the Matrixify app.
To do so you will need to go into the Matrixify app and in the Export section of the app, you will need to select the checkbox "Discounts" from the "Select Sheets" drop-down.
Then select export format "Matrixify: Excel" or "Matrixify: CSV" at the top of the page. We strongly suggest using "Matrixify: Excel" file format if exported data will not exceed any of known Excel limits.
Press the "Export" button to start the export.
Once the export will be finished you can press on the "Download Exported File" button to download the file.
2. Remove from file those Discounts you do not wish to edit
In the exported file you can now delete all the rows that contain Discounts you do not wish to edit.
Simply select the row/s you wish to delete, right click on it and select "Delete".
Before:
After:
3. Delete unnecessary columns
Since in this case we only wish to disable Shopify Discounts then there is a lot of information that we do not need to update. So we can delete all the other columns that are not relevant to us here.
You would only need the following columns from the exported file:
ID
Title
Starts At – we will use the date in the "Starts At" column to disable our discounts.
Simply select all other columns, right click on one of them and select "Delete".
4. Set "Ends At" date in the past
The simplest way for us to mark that discount is now expired is to set "Ends At" date the same as the "Starts At" date.
To do so, we will just rename the "Starts At" column to "Ends At".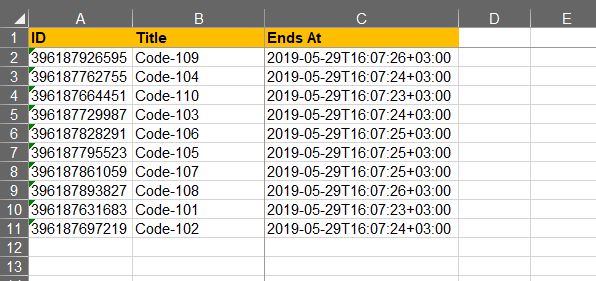 5. Save, import and enjoy!
Now the file with these 3 columns is exactly what we need to mark the Discounts as expired and disable them.
You can save the file. Go back to the Matrixify app and upload the file in the Import section. The app will analyze the file and count how many Discounts you are importing.
Press the Import button to start the import.
If you see any Failed items, then after the import has finished, you can download the Import Results file and look into the "Import Comment" column. It will tell why particular Discounts have failed. Then you can fix that issue and re-import just those failed and fixed rows again.
What to do next?