You can sync your files with Google Drive, and in this tutorial, you will see how to seamlessly upload and import that file into your Shopify store – every day, automatically.
It basically means that the app will use the file that is on your computer and import it daily to Shopify. Thanks to the Google Drive file syncing.
To sync files on your computer with Google Drive, you need to install the "Backup and Sync" app, provided by Google.
It will import any of the supported Matrixify formats.
To import the Google Sheet directly, read this tutorial: Schedule import to Shopify from Google Sheets.
Steps to import file from Google Drive to Shopify
Sync your file to Google Drive.
Copy Google Drive public shared link.
Paste your Google Drive link in the app.
Schedule the regular import from that Google Drive URL.
1. Sync your file to Google Drive
When you have successfully set your synchronization of files from your computer to Google Drive, you should see your file on your https://drive.google.com.
Locate it in your Google Drive folder and see that it's really there.
Make sure that any changes you make to it on your computer, is really synced to the cloud.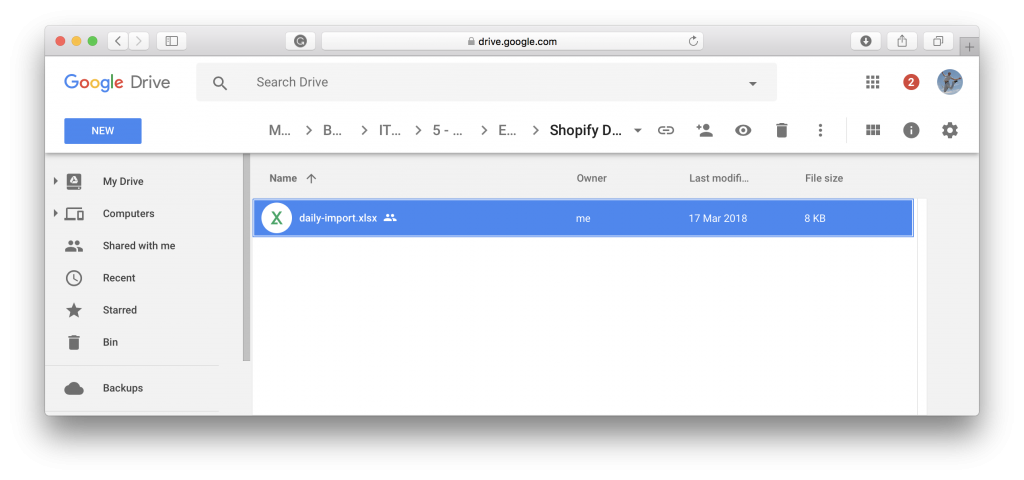 2. Copy Google Drive public shared link
Right-click mouse on that file, and choose the "Get link".
That will generate a unique public link that points to this file.


You must make sure that the link is publicly available so that the app is able to access the file you would like to Import.

3. Paste your Google Drive link in the app
Open the Matrixify app in your Shopify store, install it if you haven't already.
Scroll down to the "Import" section, and paste the URL there.
Then press the blue "Upload from URL" button – so that the app can upload the file and analyze it.
Don't worry – it will not import that just yet, you will need to set additional options first.
4. Schedule the regular import from that Google Drive URL
After the app has finished uploading and analyzing the file, you will see the "Options" drop-down.
Press the drop-down and set up the import options – the scheduled time for your next import in your Shopify store time zone.
And repeating time interval.
Your eventual options will look like this:
Notice the "Take import file from URL" – that is pointing to your file in the Google Drive. The app will download the fresh file each time it repeats the import.
Now, press the "Schedule Import" button.
It will schedule the import and if the date and time for the first import have already passed, then the app will start the first import shortly after you schedule it.
Good to know
You can also import from private file links. Share your file with email [email protected]. – Currently only works with drive.google.com links – CSV and ZIP files. Excel files will have docs.google.com link which will not work if privately shared.
The scheduled time is in your Shopify store time zone.
You can also import files from Google Drive manually – by just pasting that Google Drive link. That will make your file upload much faster because you will not need to upload the file from your own computer.
Import, not just Products data – import and update any of supported by Matrixify formats.